An amateur metal detector enthusiast was stunned when he unearthed the remains of a 1,400 year-old Saxon skeleton. What's even more shocking is that the remains are thought to be those of a pagan witch.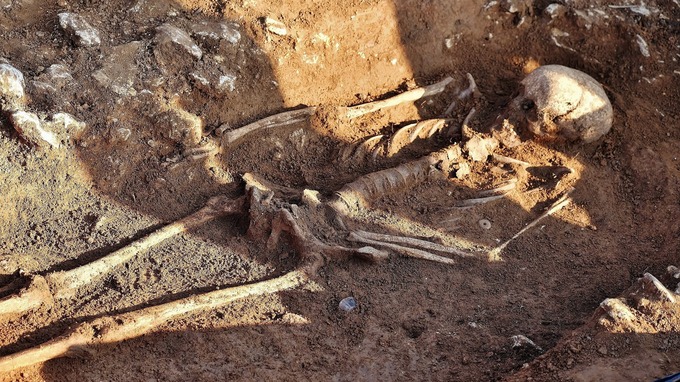 Charles Wood, 44, made the astonishing discovery when he was out on a social dig with friends in a field near Long Compton, Warwickshire.
The IT professional was at the site of the famous Rollright Stones, a group of Bronze Age monuments, when his metal detector made a faint murmur.
Charles then started digging down 14in into the soil where he uncovered a patera, an early-Saxon religious utensil, which was in pristine condition.
He quickly realised he had uncovered a burial ground after spotting some hinges next to the patera, which was only the fifth ever found in Britain.
Charles called the local finds liaison officer Anni Byard, who arrived at the crack of dawn the next day and helped the group dig deeper.
After removing over 6ft of soil, the metal detector enthusiast was stunned when they uncovered the skeleton of a Saxon woman who was between 4ft 11in and 5ft tall.
The remains have been dubbed 'Rita' after several items discovered with her led experts to believe she might the Rollright Witch.
According to the legend, a witch appeared at the site where the skeleton was found and turned a King and his four knights to stone, which now make up the Rollright Stones.
"This was more of a social event as we weren't expecting to find much.

"The ground is difficult to dig and you normally just find bottle caps from the Rollright Fayre they hold here.

"When my metal detector made a faint murmur I knew I'd have to dig down deep, but thought it would only be a plough tooth that had been pressed into the ground.

"I got 14 inches down and a small bronze rim appeared, but it seemed in too good condition to be anything significant.

"As I dug further though I saw it had a handle and it soon became obvious it was a patera - which is a very significant find.

"There's a myth around here of the Rollright Witch, and this find is certainly very interesting because of the spiritual element.

"I'm not saying anything for sure, but there's no smoke without fire.

"It was a once in a lifetime find. I could detect for the next 14 years and not find anything like it."
– CHARLES WOOD